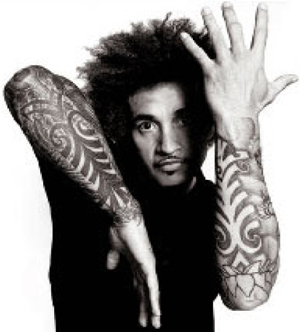 Suga Pop is a member of the Electric Boogaloos and started dancing on the circuit with Popin' Pete in 1980.  Soon after, Suga Pop took the dance to New York and shared it with Mr.Wiggles. In 1982 Popin' Pete and Suga Pop along with Skeeter Rabbit and Robot Dane toured to the UK, France and Africa, opening for musical acts and more importantly taking it to the streets.  He was also tutored by Greg 'Campbell Jr' Pope for over two decades.
He has choreographed for  Michael Jackson, Lionel Richie, James Brown, Gwen Steffani, Soul Train 50th Anniversary and So You Think You Can Dance amongst many others.
Along with the rest of the EBs he was inducted into the Rock N Roll Hall of Fame (History of Hip Hop) and was also the recipient of the 'Outstanding Locking Skills' award at the first Hip Hop Dance Awards.
After seeing the Electric Boogaloos on Soul Train Suga Pop told a friend that one day he would become an Electric Boogaloo member. Pop moved to LA to start his career in music and dance and ended up meeting EB members Poppin Pete and Skeeter Rabbit at the Playboy Club where they were doing a show. Suga Pop was boogaloo family from the start and officially joined the group in 1997. Suga Pop is also a prolific music producer and has produced artists from Cypress Hill to Booya Tribe. Pop is currently working on a CD to be released in the near future.